Rock Island Paddle Rampage 2015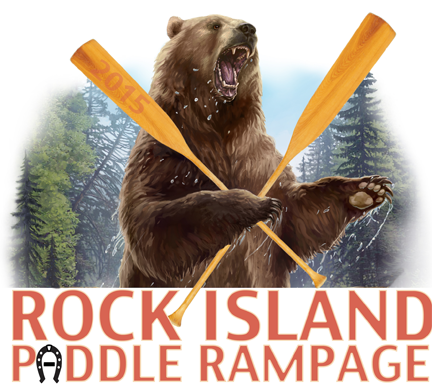 Welcome to the 2nd annual Rock Island Paddle Rampage. This event is a 1,2, or 4 mile SUP race. The race starts at Horseshoe Bend Marina and travels up to Rock Island State Park. From there competitors will travel back down river to HorseShoe Bend Marina. Food, drink, shirts,  awards, product demos, and tent camping are included for each ticket. This year we will also be providing a live band for people to enjoy after the competition. We also have 
Nashville Paddle Company
 helping us with rentals. If you need to rent a SUP they will actually carry your gear out to the race and have it waiting for you to pick up. Check out more details below or come to our website
Rental Contact:
Nashville Paddle Company
Please know that rentals are separate from the entry into the race. To get your rental please contact 
Nashville Paddle Company
  They will bring the SUP, and required materials to the event for you.  Cost for rental is $35
Common Questions:
Are there rapids - The video shows rapids that you will go near but never through
Waterfalls 
- You will paddle past two waterfalls. Rather or not they are gushing out water really depends on how the weather is. The large waterfalls are always pouring but  participants will need to drive to the main waterfalls shown in the video.
Do I need to call to reserve camping spot - While camping spots are included they need to be reserved.  Please call Horseshoe Bend Marina at 
(931) 657-5080
What will Nashville Paddle Company Bring - 
A board, and paddle! They will also be out at the event early to help anyone who might be new to the sport and perhaps do some paddle yoga!
What is different about this year? This year we are only doing a race for paddle boards, there is a live band and the trophies will be custom made. 
Can I bring my own board? Yes
When - 9/6/15
Race Starts - 2pm
Race Ends - 7pm
Distances - 1, 2 or 4 Mile
Event Entries Click on an event to see who entered.
Results Select an event to view results.
Note: All live times are unadjusted and unofficial.
Course:
There will be a universal start at the marina. The course has two turn around positions. The turn arounds are floating platforms with large signs on them stating 2  Mile Turn Around, and 4 mile turn around. All participants will need to come to the right side of the sign and go counter clock wise back down river. There will be volunteers in the water throughout the course in case you need help.
---