Skyline SUP Series 2015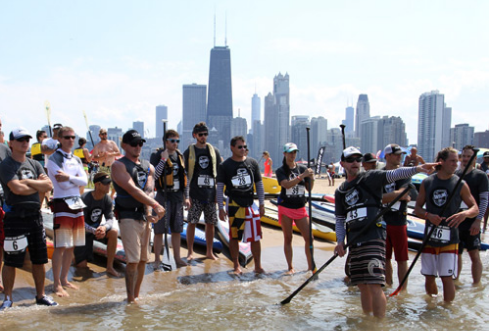 Chicago's Only WPA Stand Up Paddle Board Race, Clinic & Free SUP Demo Day
Saturday, Aug 29th 7:30am-4pm
at Lincoln Park Boat Club, Chicago
http://www.skylinesup.com

The Races:
Chicago's only WPA sanctioned race and free SUP clinic day.  Join us for 3 SUP races, free SUP clinics, vendor demos, and party fun.  The skyline SUP series: Experience the most scenic view of Chicago on a paddle board.

Race 1: WPA Elite Class
Distance: 6 Mile
Time: 8:30am launch - 10:45am last finish
Craft: 12'6" and 14'0"
Entry: $50 pre 8-27 - $65 post 8-27
In this challenging test of speed and endurance, racers will navigate 6 miles around the lagoon. This race will qualify for WPA regional points for the Great Lakes region. Advanced paddlers only. Three race classes: 12'6", 14' and unlimited SUPs.

Race 2: Recreational Class
Distance: 3 Mile
Time: 11am launch - 1 pm last finish
Craft: non-displacement hull 12'6" and under
Entry: $50 pre 8-27 - $65 post 8-27
The perfect race to get into SUP racing. Open to all skill levels and requires a SUP 12'6" and under without displacement hull.

Race 3: Team Relay
Distance: 1.5 Mile
Time: 2pm launch - 3 pm last finish
Craft: Naish One SUP (provided)
Entry: Free (space is limited)
Teams of three take to the water in this 1.5 mile team relay. Three team members battle to the finish in 1.5 miles total. Entry is per team of three.

Clinics:
In addition to the races, a series of clinics will be taking place. You'll find a wide range of knowledge sharing sessions for all rider types from beginner sessions to advanced race technique sessions. 
Clinic 1: Intro to SUP

Time: 12pm - 30mins

We will show you everything you need to get started with Stand Up Paddle boarding. This beginner class includes an overview on the gear you'll need, finding the correct size board and paddle and getting out on the water. Board, leash and PFD will be provided for all participants.

Clinic 2: SUP Yoga

Time: 1pm - 30mins

The paddle board makes for a perfect yoga mat, it's wide, stable and challenging – yet suitable for all levels. Try out our intro to SUP Yoga with a certified yoga instructor and find a unique and fun way to get in shape. Beginners welcome.

Clinic 3: SUP Race Techniques

Time: 2pm - 30mins

Seasoned SUP racer, Matt Lennert, will guide you to become a SUP pro in no time. This class will cover intermediate to advanced turning, paddle and endurance techniques. Basic paddle experience suggested.

A day of stand up paddle races, clinics and beach party fun.
08.29.2015 7:30am-4pm @ Lincoln Park Boat Club
7:30am to 8:30am............
Race Registration and Staging 
8:30am to 10:30am.......Race 1: 6 Mile Elite Class
11am to 1pm.................Race 2: 3 Mile Under 12'6" Class
2pm to 3pm...................Race 3: Team Relay
12pm to 3pm...................Open Water Demos/Clinics
3:30pm to 4pm...................Winners Circle Celebrations
Event Entries Click on an event to see who entered.
Results Select an event to view results.
Note: All live times are unadjusted and unofficial.
The event will take place at Lincoln Park Boat Club in Chicago, IL. The beach is located in Lincoln Park at 2341 N Cannon Dr. (Fullerton & Cannon Drive) Main parking is available in the Lincoln Park Zoo lot just west of of the club.