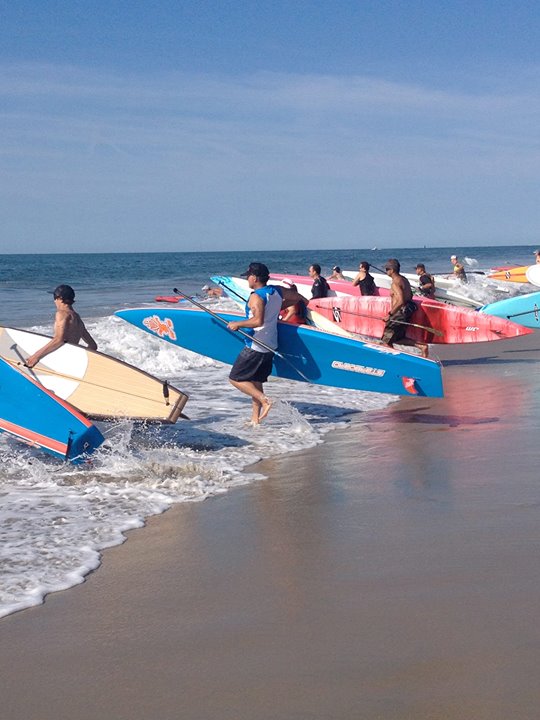 Stand up 4 Change is a WPA Sanctioned competitive 6 mile ocean race and a non-competitive 1 mile kid/family race to benefit the Margate Business Association's (MBA) Daniel and Maria Walters Scholarship Program and MBA Children Fund. In addition, the 1 mile non-competitive race will provide an opportunity for the children  of "OCMC" to donate 100% of the money they raise to 6 local charities. The race will be part of  MBA's  "BEACHSTOCK" beach party which includes, live music, food and beverages, FREE surf lessons, a bonfire, outdoor movie and tons more. For a complete list of activities or more info please go to MargateHasMore.com. 

6 miles water start/beach finish
Competitors will form a straight line between 2 buoys in the ocean. Competitors will head in one direction for 1.5
miles, round a buoy, head in opposite direction for 3 miles, round buoy then head back another 1.5 miles thru original
starting buoys and surf in and run across the finish line in the sand. Paddlers must carry their paddles with them
across the finish line.
Sup Board Class for 6 mile race

1. 14' length Class (men) No weight or board design restriction
2. 12'6 length Class (women) No weight or board design restriction
3. Sup surf board Class 12'2 Maximum Length No weight or board design restriction
Kayaks
Recreational Kayaks no restrictions
Eligibility
1. Open to men and women age 18+
2. Open to boys and girls 14+
3. We recommend all participants have prior paddling experience before entering the race.
Race Division
1. Sup, prone, kayak men and women 18-49 and 50+
2. Sup, prone, kayak boys and girls division 17& under.
Competitor Rules
1. SUP competitor must be standing while paddling once the race has started until crossing over the finish line. A
competitor is allowed to sit, lay or knell without making forward process. If competitor takes more than 5 strokes
while sitting, laying or knelling once the race has started, the competitor may be disqualified. The exception would
be safety reasons only.
2. Competitors should not engage in any unsportsmanlike action, gestures or verbalization to their fellow competitors,
officials or organizations. Any offense will result in disqualification of the offending competitor.
Prizes and Awards

1. Everyone in each age group category will receive a first, second and third place prize (TBD)
2. The first 75 people to sign up receive a free tee shirt
1 Mile Fun Paddle

Participants will form a straight line between 2 buoys in the ocean. Participants will paddle .5 miles in one direction, round buoy, head in opposite direction for .5 miles cross in between 2 buoys for finish line. This is open to all ages. A child can share a board with a parent , sibling or friend. 

Preregistration-check in

Please allow time to park. There will be a section where you can drop off your boards and belongings and then park. Some of the streets will be closed off due to the massive beach party which will follow the race. A shuttle service will be provided.  
Huntington Ave Beach 7:00am-8:30am
8:45 Meeting
9:00 6 mile race begins
9:15 1 mile race begins
Awards- 11:30
Party- 11:30am-10:00pm
Event Entries Click on an event to see who entered.
Results Select an event to view results.
Note: All live times are unadjusted and unofficial.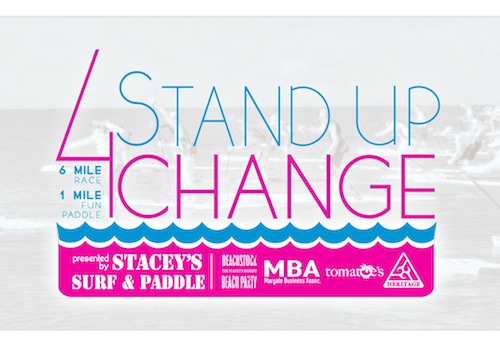 ---