Surfguys 7th Annual SUP Challenge 2016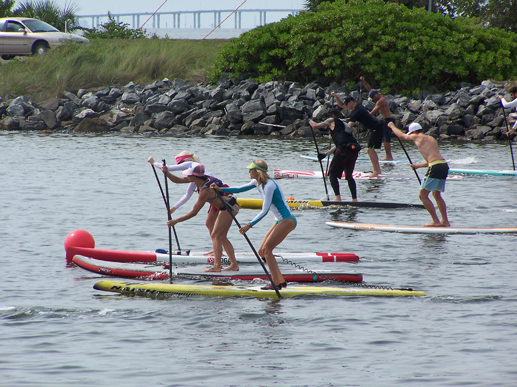 Surfguys SUP Challenge is in it's 7th year.
The Race is June 18th, 2016 on the Indian River off the Eau Gallie Causeway at Squid Lips Restaurant on the water
The Long Course Division;
Board lengths are 12'6'' and 14'
No SUP surf boards in the long course.
The Short Course Division;
Board lengths are 12-6', 14',and SUP Surf.
Displacement hulls of 12'6 and 14' are permitted in the Short Course. 

The Long Course Race will begin near 8:00am, followed by the Short Course Race at 9:15 to 9:30am.
Raffle for prizes for all competitors at Squid Lips Restaurant after the race, followed by the Awards presentation. Racers get to have Landshark Beer after the race.


Saturday's event
-7:15am - 7:50am Check in (Pick up Swag Bag)
-7:50am     Racer's Meeting
-8:00am     6.25 Mile Race Start (Long Course)
-9:15am     2.5 Mile Race Start (Short Course)
-10:45am   Raffle And Awards Ceremony (On-Site) w/specials

Event Entries Click on an event to see who entered.
Results Select an event to view results.
Note: All live times are unadjusted and unofficial.
I-95 to Eau Gallie Blvd, east to the Indian River. Turn on Pineapple Ave and go north 100' to Squid Lips Restaurant.