The 2015 Nantucket Paddle Battle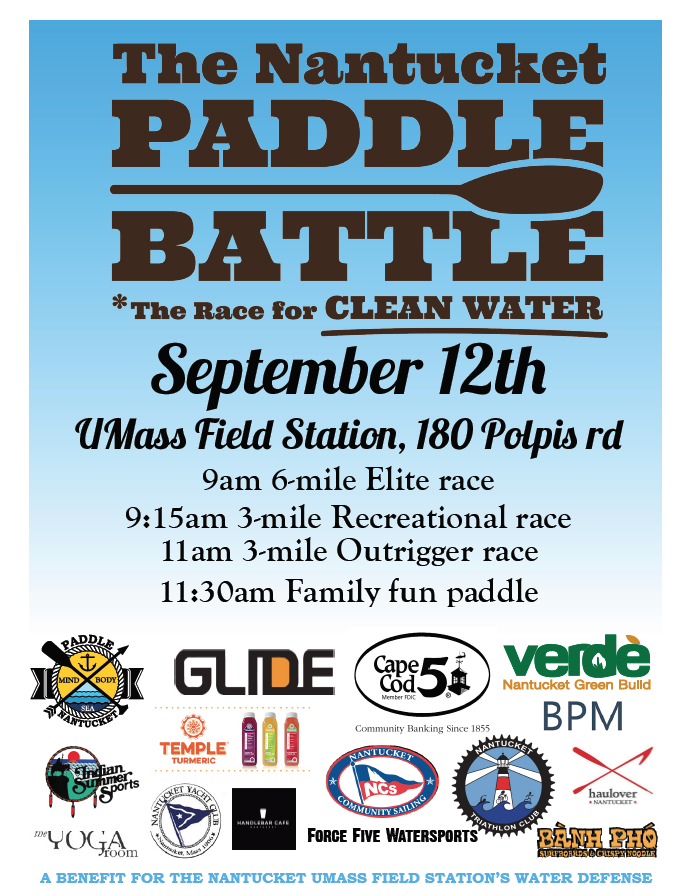 The 2015 Nantucket Paddle Battle 
Paddle Nantucket and Verde Nantucket Green Build are pleased to announce their partnership in organizing the 2015 NANTUCKET PADDLE BATTLE in an interest to promote fitness-forward water recreation, a deeper appreciation for our environment and ways in which we can as a community enjoy water fitness and wellness. 
Schedule of Events:
7-8:15am: Race Day Registration (but please consider registering online AHEAD of time on Friday at the Handlebar Cafe, we will be there between 4 and 6pm)


8:30am:  Mandatory pre-race Safety Meeting, 




9am: 6-mile Elite race




9:15am: 3-mile Recreational race




11:00am: Race Start: 3-mile Outrigger race




11:30am: 1.5-mile Family Fun Tandem Paddle (put your kiddo                 on your surf SUP and paddle against one another)




12:00pm: Awards



YOU MUST HAVE A PFD and leash.... if you need either, please contact Caitlin at caitlin@paddlenantucket.com 
Event Entries Click on an event to see who entered.
Results Select an event to view results.
Note: All live times are unadjusted and unofficial.
Our course begins just off shore, below the bluff of the UMass Field Station. Some of you may know this area as adjacent to the Fulling Mill Creeks. 
Paddlers can expect a headwind on the first leg of the triangular course, as they paddle aprox 1/2 mile to Third Point. 
The second leg will bring some side chop, but in the lee of the wind as paddlers make their way to Five Fingers Point. 
The third and final leg of the course will be a strong and fast downwind run back towards the start.
3-mile recreational racers will do ONE loop around the course (this includes men's and women's divisions in 12'6" and surf SUPs, as well as all kayakers and prone paddlers. Elite racers will do TWO. There fore there will be 3 major buoy turns for Recs and 6 for Elites. The finish line will be ON THE BEACH. Racers will unleash themselves and drop their boards, charge up the beach, paddles in hand, to ring the finish bell.
The 3 Outriggers of the Nantucket Outrigger Club will race one another, making two loops around the course. AFTER the other races have finished.* 
The Family Fun paddle, will be an out and back, and run parallel to the beach, .5 miles each way. 
*This will be a fantastic event for spectators, especially those who have never seen the beauty of the synchronized outrigger paddle. 
The 2015 Paddle Battle will be held on the beach near the UMass Field Station, off Polpis road. Paddlers can expect to park in one of two "Visitor Parking" lots near the Field Station, and then access the beach, by walking 200 yards with their boards. You will NOT be able to drive your boards down to the beach.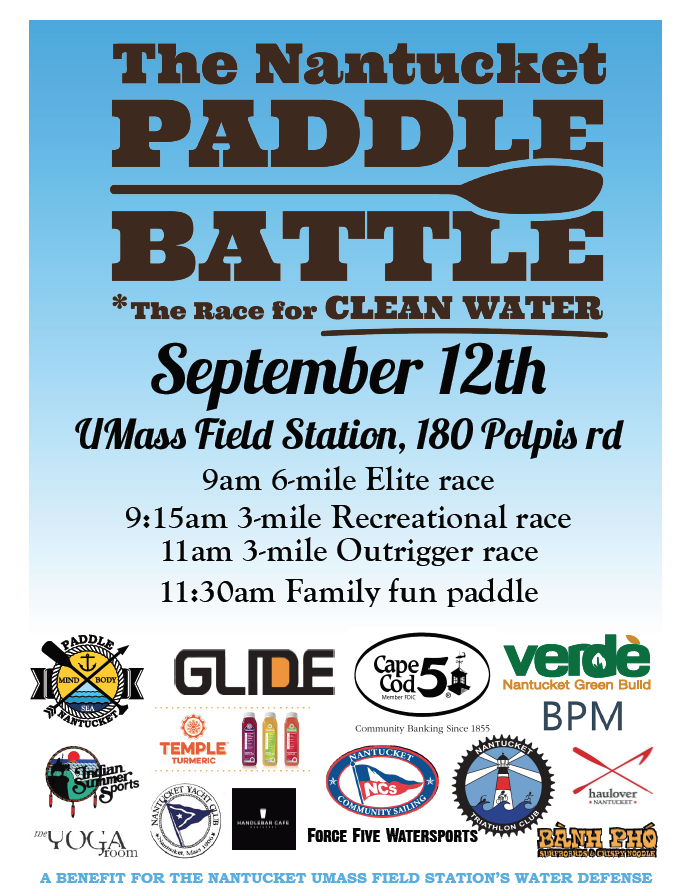 Where:
UMass Field Station, Nantucket, MA