Thirsty Thursday at DPYC Paddle Center - May 19 2016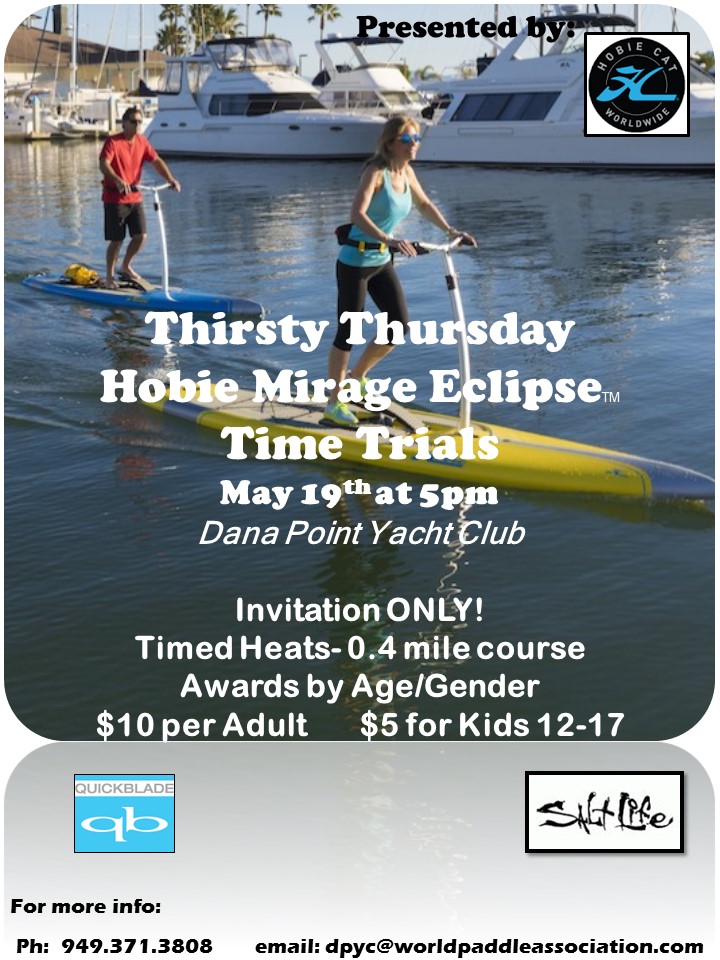 The Hobie Mirage Eclipse edition of the DPYC Paddle Center Thirsty Thursday Time Trials.  Heats will begin at 5pm and will be randomly selected.  This is a invitation ONLY event with time trial heats starting and finishing in front of Dana Point Yacht Club.  Men will be competing on the 12.0 and Women/Kids will be on the 10.5.
Invitees will need to respond to the invitation by 6pm on May 18th to compete in the first ever World Hobie Mirage Eclipse Pedal races. Competitors will compete on a .4 mile course in the bay off of Dana Point Yacht Club in a series of heat races.  The first 40 invitees to respond will be selected to compete.  Family and friends are welcome to join us at the Dana Point Yacht Club during the pedal races to enjoy food and have some well-earned refreshments.  Invitees will only need to bring themselves and PFD as Hobie Mirage Eclipse equipment will be provided for all invitees.
The cost of the Hobie Mirage Eclipse invitation race is $10 for adults 18 and over and $5 for kids 12-17 years old only.  Food and refreshments are an additional charge at DPYC.
Thirsty Thursday at DPYC Paddle Center
Heat Pedal Schedule:
4:00pm - 4:50pm - Check-In




5:00pm - Heat races begin

7:30pm - Awards
Participants, family and friends are invited to enjoy dinner and drinks during and after the fun paddle with a great BBQ menu available.
This list is private.
Results Select an event to view results.
Note: All live times are unadjusted and unofficial.