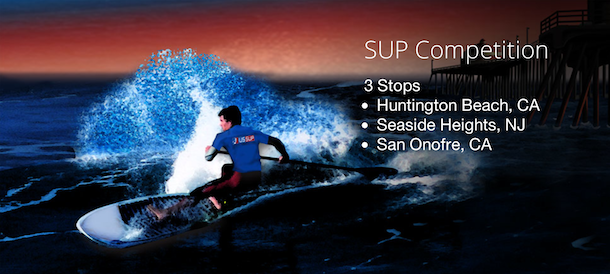 Click here to go to the US SUP Tour website!
Tour Overview
The US SUP Tour is the joint brainchild of surfer, turned SUP surfer, Ian Cairns and Chuck Hendsch, the COO of the National Professional Paintball League, now also an avid SUP Surfer. The idea of the tour is to create a series of US events that provide a uniform platform for SUP Racers and Surfers to compete on a regular basis, both as professionals and as recreational paddlers. We all know that SUP has the potential to blow up huge, but someone has to go out and make it happen. This is our contribution to the movement.
Events
SUP Surf Pro, SUP Surf Open, Elite Technical Race, Open Age Group Race (WPA age groups)
SUP Surf and Raceboard Surf Clinics
Held in the surf area, these clinics will be hosted by top WPA paddlers and will focus on improving skills in SUP Surfing and also in paddling out through waves and riding race boards in through the surf
Prize money
US SUP Tour Prize money $10,000
Men SUP Surfing ($3,750):
1- $1,500
2- $1,000
3- $750
4- $500
Women SUP Surfing ($900):
1- $400
2- $250
3- $150
4- $100
Men SUP race ($3,950):
1- $1,000
2- $700
3- $500
4- $400
5- $350
6- $300
7- $250
8- $200
9- $150
10- $100
Women SUP race ($900):
1- $400
2- $250
3- $150
4- $100
Overall Event Champions (Surfing & Race combined finishes)
Men- $300
Women- $200
Saturday Event Schedule, April 13 (times approximate): 7am: Pro SUP Surfing Heats- Round 1 10am: Pro SUP Surfing Heats- Consolation round 10:40: Open SUP Race Paddlers meeting 11am: Open SUP Race (3 miles) 12pm: Open SUP Surfing Heats- Round 1 1pm: Open SUP Race Awards Sunday Event Schedule, April 14 (times approximate): 8am: Pro SUP Surfing Heats- Round 2 10am: Open SUP Surfing Heats 10:15: Pro SUP Race Paddlers meeting 10:30: Pro SUP Race (4.5 miles) 11am: Open SUP Surfing Heats- finals 12pm: Pro SUP Surfing Heats- Semi-Finals 1:20: Pro SUP Race Awards 1:30: Pro SUP Surfing Finals
Event Entries Click on an event to see who entered.
Results Select an event to view results.
Note: All live times are unadjusted and unofficial.
The event is located on the Southside of the Huntington Beach pier, off Pacific Coast Highway in Huntington Beach. Park in the city lot on the southside of the the pier. All parking is closely monitored, so be sure to buy a ticket.

When:
Apr 12 to Apr 14, 2013
Where:
Huntington Beach, CA
---