Water Warrior Amphibious Assault 2016

Compete with the few, the proud, the Marines! Our Amphibious Assault includes stand up and prone paddleboard races, outrigger canoe and surfski races, a 1-mile open harbor swim with separate races for adults and kids, a vendor village, and kids SUP races.
Who
Marines and Civilians Ages 9 and UP
What
SUP and Prone paddleboard races, outrigger canoe race, surfski race, and open water swim
When
Sept 17, 2016
Where
Marine Corps Base Camp Pendleton, California
Race Schedule (subject to change):
6am
Day of registration available, from 6:00am – until sold out, tell your friends!
Athlete Check-in 

6:00am – 1:00pm 

T-Shirt pick-up (shirts are provided for all pre-registered participants that register before August 28th)

ALL participants must check-in a minimum of 30 minutes prior to their event start.

Mandatory body marking station open: 6:00am – 1:00pm

7:30 am
Vendor Village Open 7:30am – 4:00pm
8am
 1-mile Lagoon Course Obstacle Swim - adults
8:30am
1-mile Lagoon Course Obstacle Swim - kids
9am
Elite Amphibious Assault SUP Races prelim heats
11am
 5K Harbor (SUP, Prone, OC, surfski) Race
11:10am
 10K Ocean (SUP, Prone, OC, surfski) Race
12:30am
 1K Kid's Amphibious Assault Race
1pm
Open Age Group Amphibious Assault SUP Races
2pm
Elite Amphibious Assault SUP Final
4pm
All Amphibious Assault SUP (top three M/F) Awards Presentation
Event Entries Click on an event to see who entered.
Results Select an event to view results.
Note: All live times are unadjusted and unofficial.
Amphibious Assault
CRAFT ALLOWED: 12′ 6″ SUP
The Amphibious Assault is like no other paddle race.  Come battle your way through the exclusive Camp Pendleton waters where the Amphibious Assault Vehicles complete their training, Camp Pendleton is home to the world's largest Amphibious Assault Fleet. Elite racers will tackle a loop course that includes both surf and flat water while the open age-group and kid's race is exclusively on flat water. All racers have the traditional run on the beach at the completion of each loop but that's where the similarity to other paddle races end. The Amphibious Assault courses will reward the best athletes by including obstacles on and off the water. Prepare for a course that features obstacles on the beach that you will complete during each loop in addition to obstacles in the water. The distance of each loop is approximately 1⁄2 mile and you will be required to complete 3-6 loops, depending on your category (kid's race is 1-loop).
Open Distance 5k and 10k
CRAFT ALLOWED: OC1, OC2, SURFSKI, ALL PRONE, ALL SUP
Outrigger/Surfski/Stand Up Paddleboard/Prone Paddleboard -The 10K Open Distance race starts on the flat waters of Pendleton Del Mar Boat Basin looping around the base's harbor before heading outside the jetty and into the open ocean, heading north, then returning back to the finish. To be eligible for awards you must complete the "gauntlet" beach run (with obstacles) if you are a participant in the Stand Up Paddleboard or Prone race. Outriggers and Surfskis have a water finish and are not required to "run the gauntlet". The 5K course is a 2-loop course contained solely in the calm waters of the Camp Pendleton harbor with the same finish line requirements for awards as the 10K course.
1 Mile Harbor Swim
Get ready for our harbor swim course featuring water obstacles (yes, you heard that correctly, obstacles in the water) followed by a run through the gauntlet of beach obstacles at the finish line. Not your traditional ocean swim as this race features challenges usually reserved for runs and a guaranteed fun time in the water and at the finish line. (Wetsuits OK but remember, part of this race is running on land)

From I-5 Northbound, take the Camp Pendleton exit in Oceanside and proceed to the main gate. From I-5 Southbound, take the Camp Pendleton/Harbor Drive exit, then left at the end of the freeway ramp towards Camp Pendleton and proceed to the main gate.
Stay in the right visitor lane when going through the front gate of Camp Pendleton. Immediately after entering base, veer RIGHT toward Del Mar Beach (follow signage). Then turn RIGHT at stop light (Wire Mountain Road) to proceed across the bridge.
Stay on Wire Mountain Road for about a mile then turn left on 12th St and proceed until you see Del Mar Beach Guest Services on your right (we will have "RACE EVENT" signs to direct you). Follow race event signs to the south jetty parking lot. Allow 15 minutes from the base gate to the race site. When aboard the base, please follow all posted speed limits. You MUST bring a valid driver's license, proof of insurance and vehicle registration for yourself and a valid ID for all passengers to gain access to the base. Carpooling is highly encouraged!
BEACH CAMPING FOR WATER WARRIOR PARTICIPANTS!!

 – We currently have 16 RV/tent campsites reserved for this event AT THE BEACH and within walking distance of the race venue.
Available nights are Friday September 16 and Saturday September 17, 2016. Patrons can either bring tents or an RV Camper/trailer.
To book a campsite, please contact Del Mar Beach Resort Guest Services at 760 725 2134 or 760 725 2313. You will be required to inform the desk clerk that you are with the Water Warrior Festival and must provide your registration confirmation number (active.com confirmation number) in order to reserve a space. For more info on the Resort and campsite amenities, go to www.mccscp.com/delmarbeach
The following includes camping rules & regulations:
On each campsite you may have one RV or one TRAVEL TRAILER plus one tent with two vehicles. If no RV is present two tents are allowed with two vehicles. If a guest is utilizing a pop up tent one four man tent and two vehicles are allowed.

The maximum personnel sleeping on one site is a total of eight. The site will allow for a four, six and eight man tent. The tent size will be dependent on the type of trailer occupying the site.

When the site is occupied by a Popup Tent, RV or Travel Trailer one four man tent is authorized.
When the site is not occupied by either of the above the patron may have two four man or one six or one 8 man tent only

Dogs MUST be kept on a leash. Leashes may not be more than six feet in length. Owners must dispose of feces left by dogs. Feces may not be buried. Dogs ARE NOT permitted on the beach or left alone in the campsites when owners leave the immediate area.

No pallets or any wood with nails hardware, paint, or chemical treatment can be burned.

Each patron with a paid reservation agrees that all guests and family members will comply with rules and regulations.

Patrons must properly police their sites and surrounding area for trash and debris. 

Check in time is after 1:00pm and check out is by 11:00am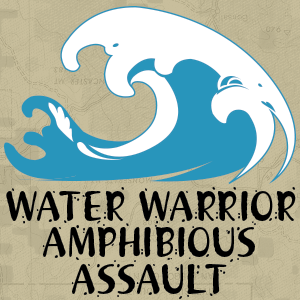 Where:
Camp Pendleton South, CA