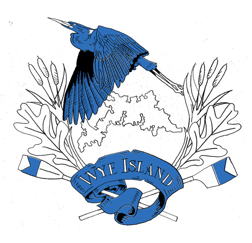 This Annual 13.1 Mile River Race starts at the Wye Landing on the Wye East River, 18 miles southeastof the Chesapeake Bay Bridge on Maryland's Eastern Shore and circumnavigates around historic Wye Island a natural preserve.  It is the only 100% "people-powered" paddle/rowing regatta in the US.  It features traditional rowing shells with singles, doubles, four-oared, and eight-oared rowing; one and two person kayaking; outrigger canoes, regular canoes, lorries, and SUP course (6 mile or 13.1 mile).  The regatta is well marked, highly supervised and timed for those who wish to earn medals.  The 13.1-mile "half-marathon" is well protected from the Chesapeake Bay's open waters and is delightfully scenic.
On shore, the venue is complete with food and beverage service, vendor tents, ample field parking, awards and event merchandise.  In its 24th year, the event draws over 500 participants ranging from High School teams and clubs to 80+-year-old paddlers and rowers coming from a dozen different states.  The regatta draws rowers, canoeists, and kayakers from the Mid-Atlantic region to participate in a nature friendly Chesapeake Bay "green" event.
Annapolis Rowing Club (ARC) serves as the annual host and is a non-profit 501(c)(3) organization located in Annapolis, Maryland. We serve the community and those who love rowing, and those who want to learn to row. We also feature a special cause: Strokes4Survivors.  This special group of cancer survivors receives special training from ARC and come together and row socially with the equipment, coaching and training provided by ARC.  Strokes4Survivors have been featured locally in regional news and magazine publications.  
Cox & Boat Captains Meeting w/ Officials 8:40a

Stand Up Paddle (SUP) Mass Start 

9:05a

Kayak Challenge Event - Mass Start 9:15a

Canoe & Outrigger Canoes 9:25a

Miscellaneous Fixed and Sliding Seat 9:35a

Women's Recreational 1x 9:45a

Men's Recreational 1x 9:55a

Women's Racing 1x 10:00a

Men's Racing 1x 10:05a

Women, Men, Mixed 2- 10:10a

Women, Men, Mixed 2x 10:15a

Men, Women, Mixed 4+ 10:25a

Men, Women, Mixed 4x 10:45a

Women 8+ 11:00a

Mixed 8+ 11:15a

Men 8+ / 8x All 11:30a
Event Entries Click on an event to see who entered.
Results Select an event to view results.
Note: All live times are unadjusted and unofficial.
For directions via GPS: 
use 
12587 Wye Landing Ln, Wye Mills, MD.
From U.S. 50 East/Bay Bridge (East bound):
 Turn right on Rt. MD-662 N. (Old Wye Mills Rd.), proceed through Wye Mills, turn right on Wye Landing Lane follow until you see Parking Attendants and Regatta Signs. 
From U.S. 50/301 West/Easton (West bound): Turn left on Rt. MD-662 N. (Old Wye Mills Rd.) then left onto Wye Landing Lane; follow until you see Parking Attendants and Regatta Signs. 
Vehicles with special parking requirements, such as crew trailers, motor homes, school buses; Please arrive by 7:45 A.M. to guarantee convenient parking is available. Passenger car parking is free, but is limited so please car-pool with your crew! Cars may be directed to park off site for overflow. Competitors to include car-top and truck-trailers will get priority parking. Parking attendants will be onsite to direct traffic.